When I refer to "romantic" things to do in Paris, I'm thinking of activities that will allow you to spend quality time with your partner while exploring the real Paris, whether that's a unique take on the most popular sites in Paris, or offbeat local areas. A great way to do this is by taking special interest tours with local experts, so I've come up with an eclectic roundup of tours that go beyond the normal and introduce you to another side of the city. Happy exploring!
Note for the purposes of this article, I chose only tours, as in you are walking around and thus seeing the city. There are a lot of excellent tastings, classes and workshops in Paris which deserve a whole article just on them (and you can find my favourite foodie experiences in this article and other ideas at the end of this post).

Paris History, Stand-up Comedy Style
If you want an original approach to sightseeing in Paris, then the entertaining tours offered by Laughing Museum are for you. After his knockout success "standup tour" at the Louvre, comedian Cedrik Verdure has taken his show to the streets of Paris. His tour travels around the Left Bank as you learn amusing stories, little known facts and the basics about both famous and hidden sites of the area. The laughs continue at the end of the tour over a glass of wine. You can book tours privately through his site or group tours through the more info link below. UPDATE: Cedrik is now focusing on his museum tours, learn more about those here.
Why this tour? Extremely informative AND extremely fun
Who's it for: Anyone with a good sense of humor
Amelie's Paris with a real life "Amelie"
If you're old enough to remember the offbeat 2001 film "Le Fabuleux Destin D'Amélie Poulin" (or just "Amélie" in English), then you'll love this wonderful tour of various sites featured in the film shown to you by a real life" Amélie"! Okay, her name is really Anne, but this hip Franco-American, evokes the film character and even lives right down the street from the famous café in the movie. An alternative exploration of the city during which you'll see an eclectic collection of sites, take some quirky selfies with your chéri/e (Anne brings her gnome!) and meet a fun local.
Why this tour? Quirky way to visit both offbeat & famous Paris
Who's it for: "French at heart" lovers

Scandalous Paris!! Brothels, Boudoirs & Courtesans
Paris is the city of "love" for many reasons… not just for its beautiful streets and sites! Discover the sexy side of the city on this excellent and intriguing new tour offered by Localers. The tour takes you back in time to travers the evolution of brothels, lavish maisons closes and top courtesans from the late 18th century through the Belle Époque and early 20th Century. The informative tour shows you to the location of some the eras most famous establishments, many now defunct and hidden in plain sight, and takes you on an alternative trail northward from Palais Royal to Pigalle. The tour provides amazing and fun insight, full of entertaining and somewhat risqué stories of the Paris (and Parisians) you won't find on traditional tours. The tour ends up over a cocktail in an opulent former maison close, the perfect way to envision what these venues where like… and to get your night off to a seductive start with your partner! This is a perfect tour to do as a couple PLUS my readers are also treated to a special 5% discount on this tour with the promo code JETAIME. Have fun… and be enjoy the naughty spirit!
Why this tour? Very unique and not offered by other companies
Who's it for: The curious with an "oh la la" spirit, repeat visitors
Marais Tour, Paris' Gayborhood
Couples come in all forms today and Paris is open and welcome to them all.  I love the Marais, it's one of the most historic and charming neighborhoods of Paris, and it part of it also happens to be the city's "gayborhood." This tour, led by guide-extraordinaire Bryan Pirolli and his super team, tours this gorgeous and fascinating area, delving into its history, its secret places in addition to its evolution as the gay village of Paris and its best places to go out.
Why this tour? Only gay-friendly focused tour in Paris
Who's it for: LGBT and the open-minded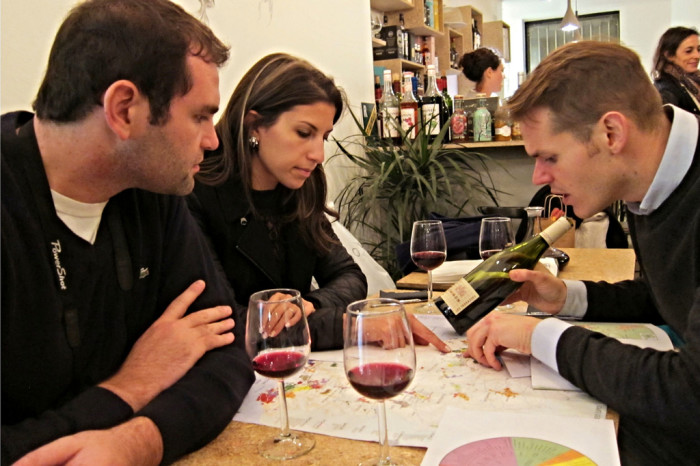 Wine Tasting in Hip Eastern Paris
What would a trip to France be without sampling its delectable wines? You can get an excellent introduction to the country's most famous libation on the fantastic Bordeaux to Burgundy wine tasting offered by Context Travel. Among their excellent and vast range of in-depth small group tours led by experts, this experience takes place at authentic wine bars and cellars in the up and coming East End of Paris, making it a great opportunity to learn about wines where Parisian's actually drink them (instead of a "class room setting you'll find at other tastings). The tasting tours are led by sommeliers or wine specialists and have no more than six people. Afterwards you can explore some of the great restaurants and bars in this hip neighborhood.
Why this tour? Sommelier-led. Onsite in authentic wine bars
Who's it for: Wine lovers looking to explore a little off the beaten path … and palate

Hipster Pigalle after Sundown
I might be a little biased recommending this tour as a) I live in the area and like going out here b) I've known Francois for ages …. but both of these mean I can vouch for the supreme coolness of this tour! It can be somewhat intimidating to go out in a foreign city, feel right at home and hang with the hipsters of Paris on this evening tour of the top nightlife places in cool Pigalle. A walking encyclopedia of Paris nightlife, Francois will show you where actual Parisians spend their nights, and you'll also have VIP access to the legendary Bus Palladium club.
Why this tour? Great nightlife experience and … Francois is the King of Hip Pigalle!
Who's it for: Night Owls looking for a fun night out surrounded by real Parisians
Looking for other cool "romantic" things to do in Paris? Check out my articles on: